The 
DSR-1
 is a sniper rifle that appears in Conflict: Global Terror. It is the primary weapon of
Carrie Sherman
.

Conflict: Global Terror
Edit
DSR-1 is Sherman's first sniper rifle, appearing only in South Korea. It is also incorrectly shown as semi-automatic rather than bolt-action. Its inventory icon shows the correct placement of the magazine, but the ingame model has the magazine inserted in the spare magazine holder.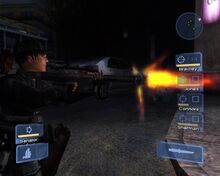 Ad blocker interference detected!
Wikia is a free-to-use site that makes money from advertising. We have a modified experience for viewers using ad blockers

Wikia is not accessible if you've made further modifications. Remove the custom ad blocker rule(s) and the page will load as expected.