The 
Beretta 92
 is a pistol that appears in Conflict: Desert Storm and Conflict: Desert Strom 2. It is the secondary weapon of 
Paul Foley
.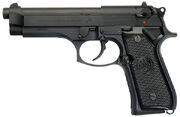 Description
Edit
The Beretta 92 is a handgun widely used in the civilian and military market. In the Conflict series, it is the personal sidearm of Paul Foley for when things get close. It is a decent single-shot handgun with a 15-round magazine capacity. It can drop most targets in three shots.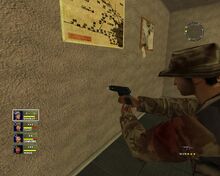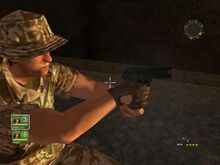 The Beretta 92 is based on the real life Beretta 92 which is chambered in 9x19mm Parabellum.
The Beretta 92 officially entered U.S. Military service in 1990 as the Beretta M9.
Ad blocker interference detected!
Wikia is a free-to-use site that makes money from advertising. We have a modified experience for viewers using ad blockers

Wikia is not accessible if you've made further modifications. Remove the custom ad blocker rule(s) and the page will load as expected.